Good question!
The last few weeks have been very busy, but in a good way! Hubby and I have put an offer on a new house (we don't know yet if we got it) and Teddy Bear Tins is taking off. That and we continue to remodel our current house, plus of course our full time jobs, of which mine is insane!
So it's been a bit stressful, but today I'm trying to breathe and recenter.
I think Teddy Bear Tins has been very important in my "recovery" process. I had been starting to have headaches and memory loss, in addition to being in a general fog for several months. Since putting my heart into this new effort I've felt a lot better.
At this point I've got a box full of 48 blank tins, all the paints, brushes, and supplies needed for the volunteer artists... basically everything needed to make the kits. For the last week I've worked to assemble boxes and have now shipped them to my first four volunteers. In about a week I hope to have the first round of finished tins. I cannot WAIT to see them!
My grandfather, Aiden's great-grandfather, is one of the volunteers. Quite unexpectedly I received a phone call from him a little while back. Smiling I could tell that he had been prodded to call by my grandmother. My grandfather asked if he could paint some of the tins, saying that he used to paint. I never knew my grandfather had been involved in art! Later my grandmother emailed me and said that she thought this was important for Grandpa, that he might need it to help him heal. Then on Sunday after I sent his box of supplies she sent me this picture: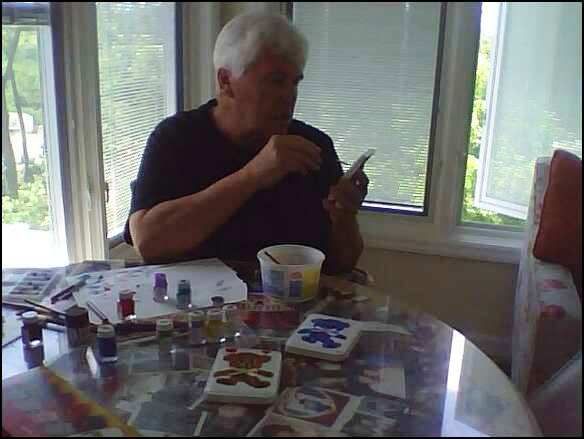 Absolutely. Priceless.
"Thank you Lord for the gift of this day, for the love and peace that I see in this picture. I beg you to continue to comfort my grandfather and all of Aiden's loved ones. We miss him more than we can understand."